THE DOLL 2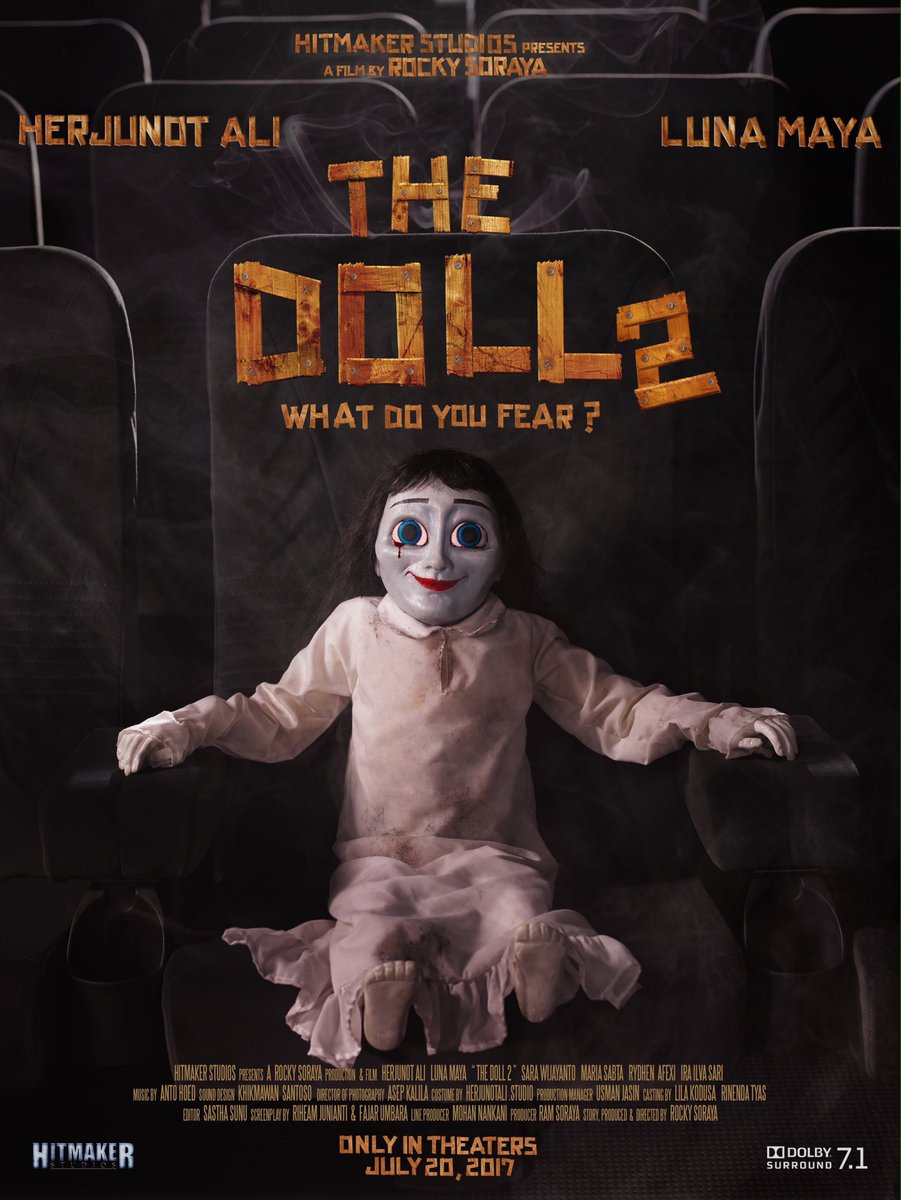 STORY, PRODUCED & DIRECTED BY:
Herjunot Ali, Luna Maya, Sara Wijayanto
Riheam Junianti & Fajar Umbara
- Maira dan Aldo hidup berbahagia dengan Kayla, anak mereka yang masih kecil dan juga Yani, pembantu mereka. Sebuah kecelakaan tragis merenggut nyawa Kayla dan membuat kebahagian mereka hilang. Maira berubah menjadi sosok pemurung dan Aldo menyibukkan diri dengan bekerja.
Tetapi 6 bulan kemudian, tepat di hari ulang tahun Kayla berikutnya, Maira mulai merasakan bahwa ia tidak sendirian. Suara pintu terbuka pada malam hari, TV rusak yang menyala sendiri, dan suara anak kecil yang sering memanggilnya. Boneka Sabrina yang merupakan boneka kesayangan Kayla pun sering berpindah tempat.
Atas saran Elsa, sahabatnya, Maira mencoba untuk berkomunikasi kepada Kayla dengan mengunakan medium boneka Sabrina. Sejak itu Maira mulai merasa terganggu dan meyakini bahwa Kayla yang mengganggunya. Aldo tidak percaya padanya. Tapi Maira yakin Kayla sekarang berada dalam boneka Sabrina dan ia ingin menyampaikan sesuatu kepada Maira.
Hingga akhirnya Maira minta bantuan Bu Laras dan Bagas, sosok paranormal yang pernah mengatasi kasus yang mirip beberapa tahun yang lalu. Tapi Bu Laras yakin, ini akan lebih buruk dari sebelumnya dan Maira harus siap menghadapi apapun yang akan terjadi.
- Maira and Aldo lives happily with Kayla, their youngest child and Yani, their maid. But a tragic accident took Kayla's live away and also their happiness. Maira changes into someone so bleak and Aldo drowns himself in work.
But 6 months later, on the day for Kayla's next birthday, Maira feels that she is not alone. The sound of doors opening at night, a broken TV turning on by itself, and a sound of a child calling for her. Sabrina the doll which is Kayla's favorite toy is also often misplaced.
Elsa, her bestfriend, advises her to try to communicate with Kayla using Sabrina the doll as a medium. From that moment on, Maira feels disturbed and believes that Kayla is the one disturbing her. Aldo wouldn't believe her. But Maira is convinced that Kayla is now inside Sabrina the doll and is trying to communicate with her.
So finally Maira asked Bu Laras and Bagas for help, paranormals who did something similar a few years ago. But Bu Laras is convinced that this will be worse than before and Maira will have to be ready for whatever is coming.