"Di kesunyian malam ini… Ku datang menghampiri…"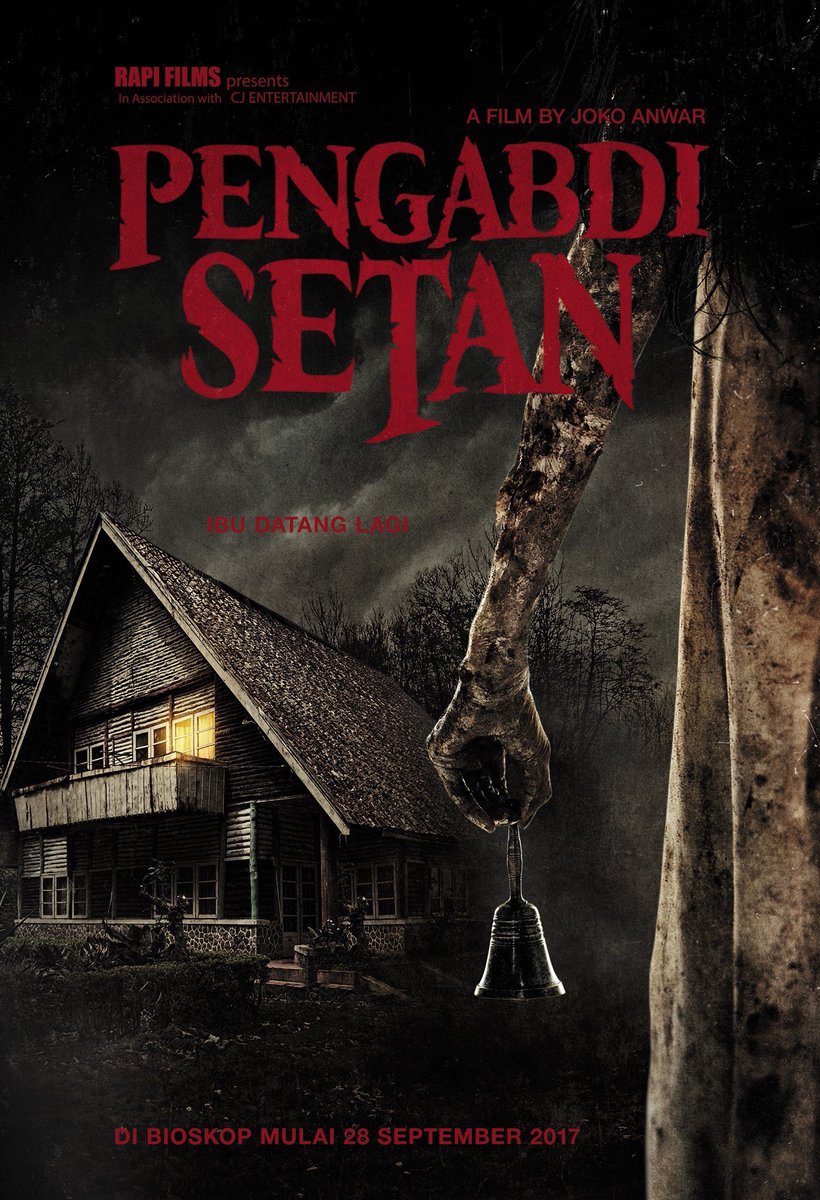 Setelah sakit aneh selama 3 tahun, Ibu akhirnya meninggal dunia. Bapak lalu memutuskan untuk kerja di luar kota meninggalkan anak-anak. Tak lama kemudian, anak-anak merasa bahwa Ibu kembali berada di rumah. Situasi semakin menyeramkan ketika mereka mengetahui bahwa Ibu datang lagi tidak sekedar untuk menjenguk, tapi untuk menjemput mereka.
Tara Basro ... Rini Suwono Endy Arfian ... Toni Nasar Anuz ... Bondi Adhiyat Abdulkhadir ... Ian Dimas Aditya ... Hendra Ayu Laksmi ... Mawarni Suwono Elly D Luthan ... Nenek Rini Egi Fedly ... Budiman Syalendra Bront Palarae ... Suwono Arswendy Bening Swara ... Ustad Fachri Albar ... Batara Asmara Abigail ... Darmina
By Film
@jokoanwar
: "Pengabdi Setan (Satan's Slaves)
Director/scriptwriter : Joko Anwar
Executive Producer : Sunil G. Samtani, Priya NK, Jeong Tae Sung, Mike Im
Producer : Gope T. Samtani
Line Producer : Tia Hasibuan
1st Assistant Director : Riviena Yulieta
Starring : Tara Basro, Bront Palarae, Dimas Aditya, Endy Arfian, Nasar Anuz, M. Adhiyat, Ayu Laksmi, Elly D. Luthan, Arswendy Bening Swara, Egi Fedly, Fachri Albar, Asmara Abigail
Director of Photography : Ical Tanjung
Art Director : Allan Sebastian
Casting by : Melisa Hanna
Costume Designer : Isabelle Patrice
Make-up & Make-up FX: Darwyn Tse
Editor : Arifin Cuunk
Sound Recordist : Anhar Moha
Sound Designer : Khikmawan Santosa
Music by : Aghi Narottama, Bemby Gusti, Tony Merle
A Rapi Films presentation in association with CJ Entertainment
"DI BIOSKOP 28 SEPTEMBER 2017"