Surat Cinta Untuk Starla | 28 Desember 2017 | Rudy Arianto | Screenplay Films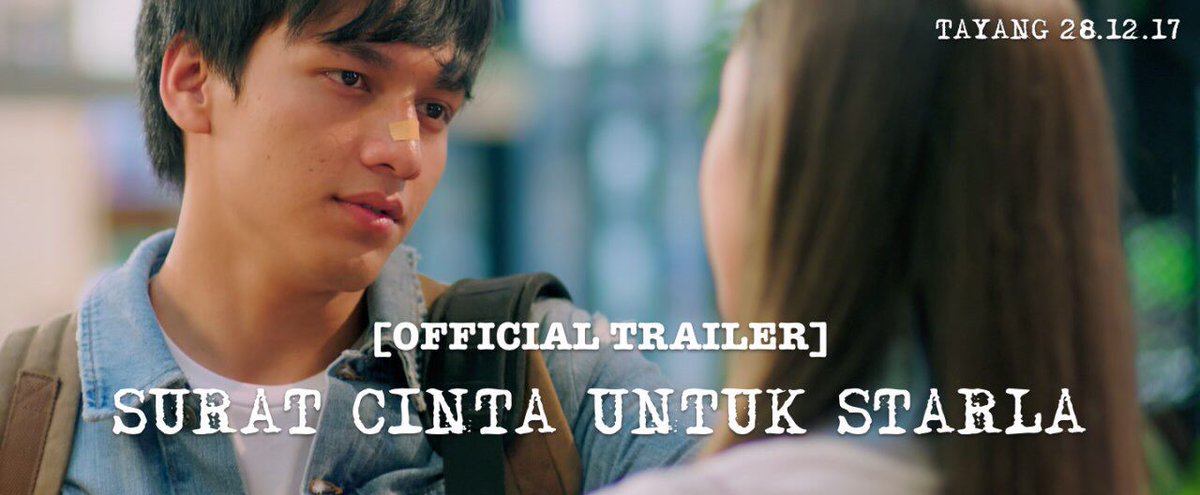 Cast : Jefri Nichol , Caitlin Halderman
Hema cowok yang terobsesi dengan cintanya pada alam memiliki keunikan membuat surat cinta untuk alam. Dengan dibantu mesin tik tuanya peninggalan sang kakek mantan jurnalis, Hema membuat mural yang menunjukkan betapa cintanya Hema pada alam ini. Alam adalah satu satunya cinta yang Hema kenal. Hingga suatu saat Hema mengenal Starla. Gadis cantik dan mandiri yang selama 6 jam telah berhasil membuatnya jatuh cinta. Untuk pertama kalinya Hema menyadari ada surat cinta yang lebih indah daripada surat cinta untuk alam yaitu Surat Cinta untuk Starla. Namun di saat Hema dan Starla semakin dekat, tiba-tiba sikap Starla berubah. Starla marah dan menjauhi Hema bahkan menyuruh Hema melupakan 6 jam kisah mereka yang menjadi viral di sosial media bahkan disiarkan di radio oleh Athena, sahabat Hema. Hingga suatu ketika Hema baru mengetahui penyebab perubahan sikap Starla padanya. Apa penyebab perubahan sikap Starla itu? Bagaimana kelanjutan hubungan Hema dan Starla? Bagaimana Kelanjutan Starla dengan Tunangannya Bimo? Saksikan cerita seutuhnya di film SURAT CINTA UNTUK STARLA, Segera Tayang di Bioskop Kesayangan Anda! Desember 2017 Ikutin terus update tentang
#SuratCintaUntukStarlaTheMovie
disini: Surat Cinta Untuk Starla
https://www.instagram.com/film_scus
https://twitter.com/film_scus
Film ini terinspirasi dari lagu "surat cinta untuk starla" yang di ciptakan oleh virgoun, Lagu ini bercerita tentang perasaan cinta yang paling jernih dan tulus dari seseorang untuk seseorang lainnya.
Based on by original song "Official Music Video Surat Cinta Untuk Starla - Virgoun Tambunan"
SCREENPLAY FILMS IN ASSOCIATION WITH LEGACY PICTURES
A film by : Rudi Aryanto
Produser : Sukhdev Singh & Wicky V. Olindo
Co - Producer : Robert Ronny
Story and Written by : Virgoun Tambunan - Sukhdev Singh & Tisa TS
Cast :
1. Jefri Nichol
2. Caitlin Halderman
3. Salshabila Andriani
4. Ricky Cuaca
5. Ramzi
6. Merriam Bellina
7. Rizki Hanggono
8. Rianti Cartwright
9. Special Appearance : Amanda Manoppo
Coming Soon (2017) In All Theater Indonesia.
#SuratCintaUntukStarlaTheMovie
#SuratCintaUntukStarlaMovie
#SuratCintaUntukStarla
#FilmIndonesia
#28Desember
#Cinemaxx
#CGV
#Cinema21
#PremiereMagz
#Screenplay